Welcome
Based in Prince George, BC, Aztech Fire Safety Planning & Consulting serves all of Western & Northern Canada; Alberta, Saskatchewan, Manitoba, Yukon and Northwest Territories, Nunavut, and of course our home province of British Columbia.
We are committed to providing comprehensive fire safety planning and custom fire code compliance solutions to our clients with purpose, integrity, and excellence.
We approach each assignment as the unique situation that your building and its' operations and occupancy represent.
Fire Safety Plans
Required by National and Provincial Fire Codes for buildings that have fire alarm systems, assembly occupancies, care or detention occupancies, and operations that involve indoor or outdoor storage, flammable liquids, or hazardous processes. Fire Code also requires Fire Safety Plans for construction, alteration, or demolition sites/operations.
Our Fire Safety Plans are customized to meet your specific locations' current requirements, Fire Code, municipal bylaws, and any format/content guidelines. And, are guaranteed to be accepted by your local Fire Department or other "Authority Having Jurisdiction".
Fire Safety Plans are required to include "to scale" Site Plans and Floor Plans that show the location of fire protection equipment, fire dept. access, and any fire hazards. Fire Safety Plans are also required to include the emergency procedures, the designation of supervisory staff, the training of supervisory staff and occupants, the operation of the emergency systems, the holding of fire drills, the control of fire hazards, and the inspection and maintenance of the fire protection equipment and life safety systems. Construction Fire Safety Plans also require the protection measures for adjacent buildings.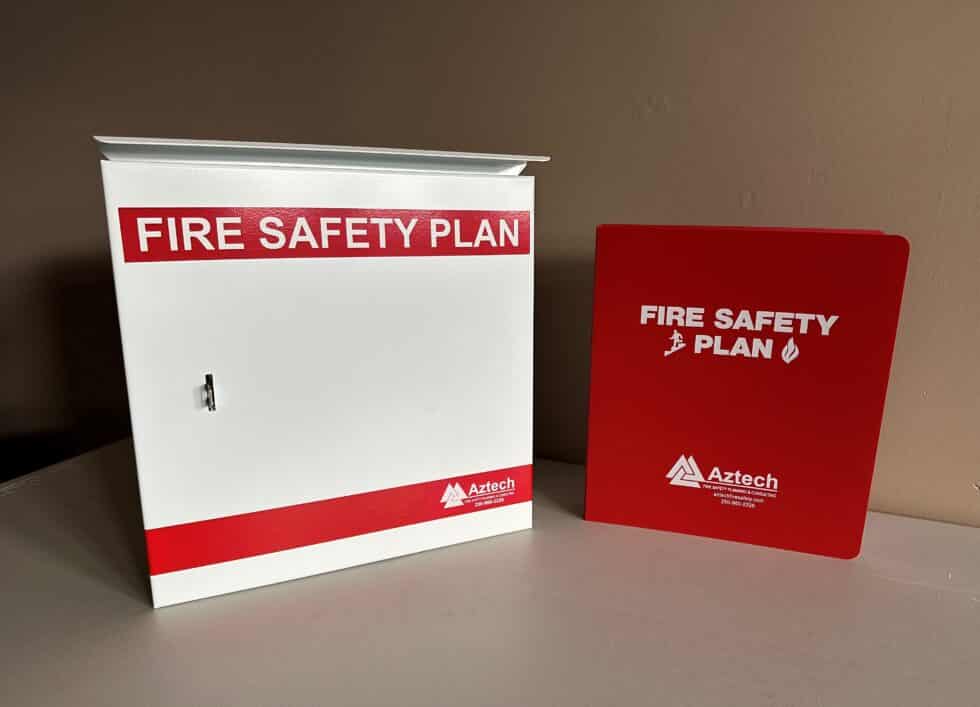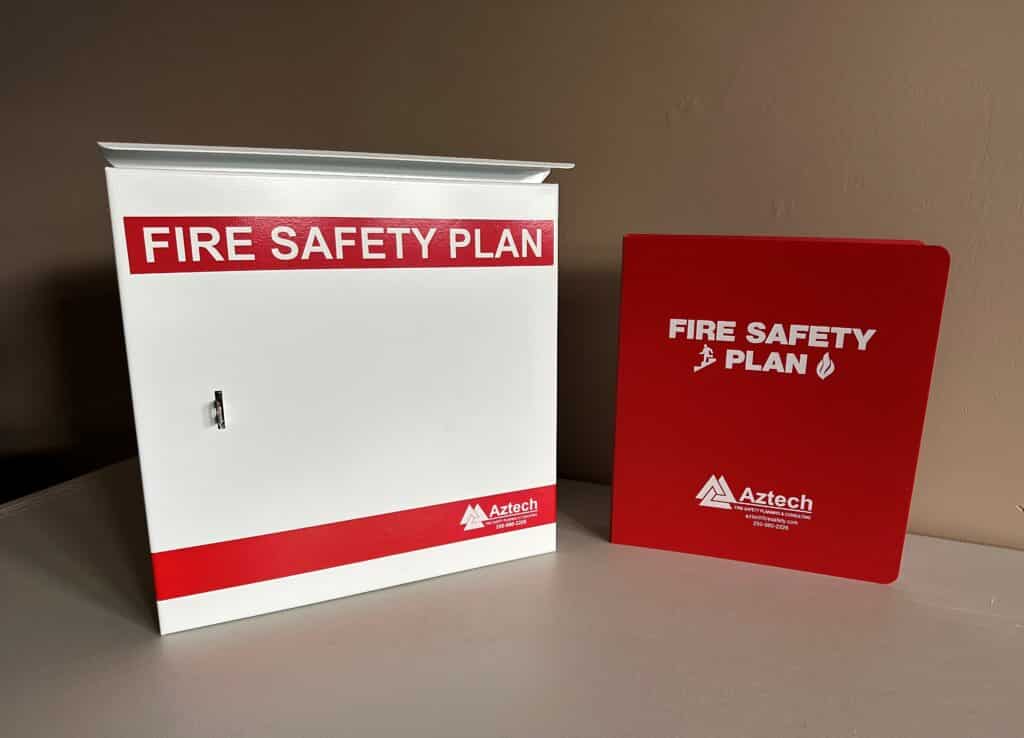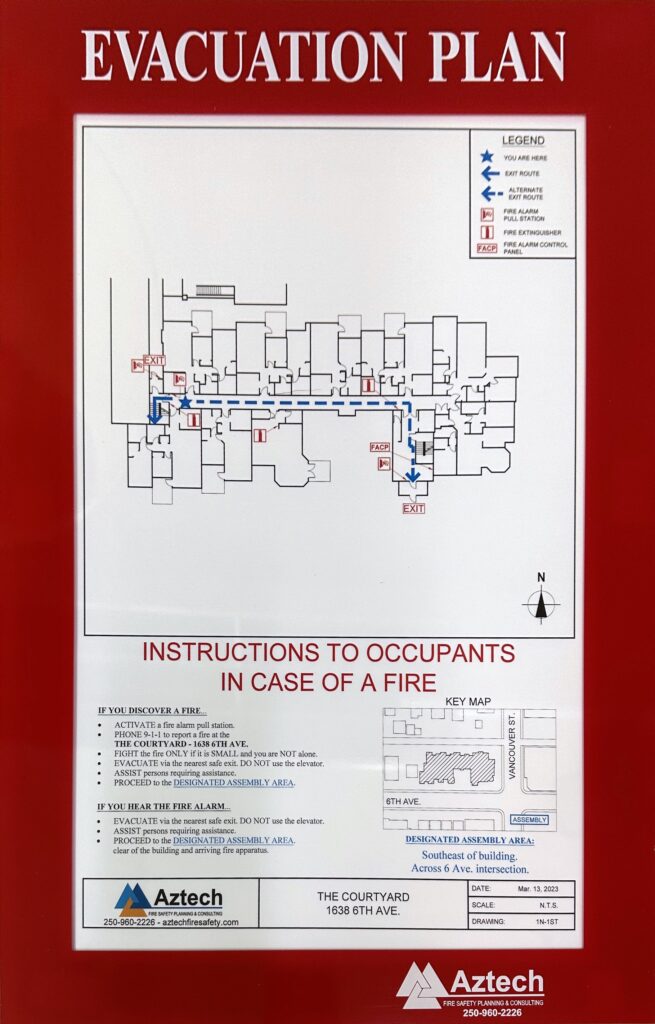 Evacuation Plans
One Fire Code requirement of a Fire Safety Plan is to post the Fire Emergency Procedures for occupants, prominently in every floor area and in every hotel sleeping room. The posted fire emergency procedures are required to include a graphic map displaying the egress routes to exits and relevant fire protection equipment, such as fire alarm pull stations and fire extinguishers. These fire emergency procedures combined with the egress graphic are commonly called "Evacuation Plans". Our posted Evacuation Plans are designed to have a unique "you are here" location, be oriented to the viewer's position, include a Key Plan that illustrates the designated assembly/muster location, and include bold coloured symbols and arrows, so that they are quickly and easily understood.
Fire Alarm Zone Graphics
Fire Departments and municipal bylaws often require that a passive Fire Alarm Zone Graphic be provided at a building's main entrance, where there is a fire alarm annunciator without an active graphic included. The Fire Alarm Zone Graphic illustrates the locations of the zones listed on the annunciator panel, so that the responding fire dept. can quickly understand the exact location of the fire.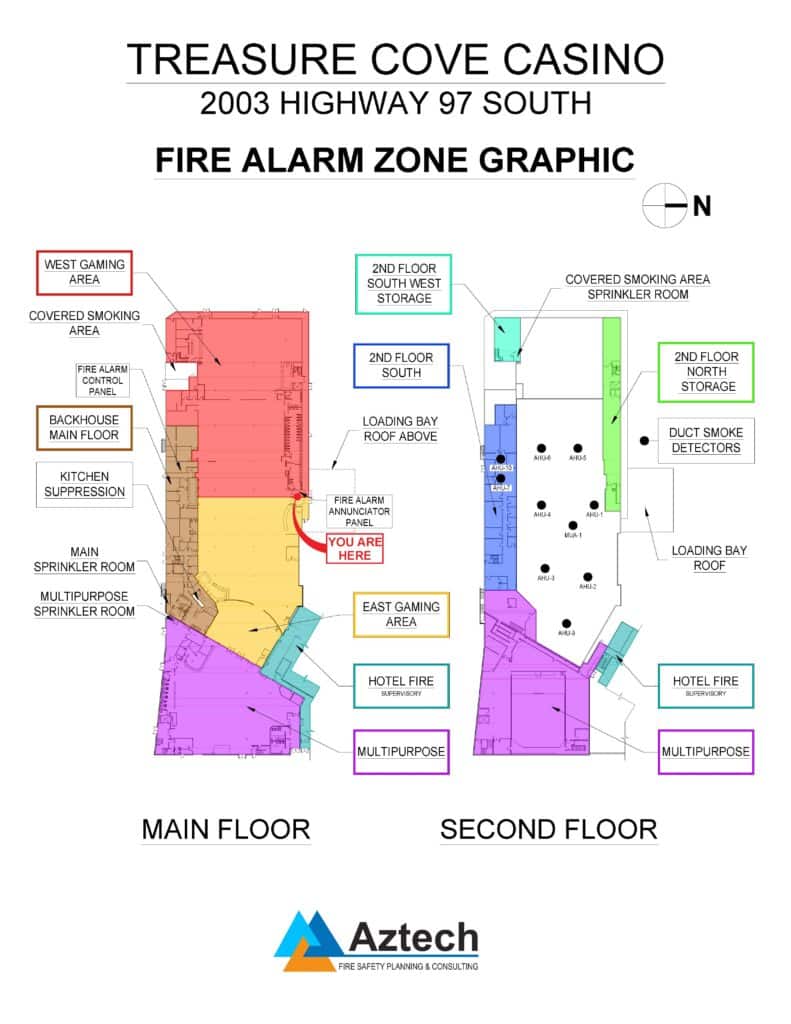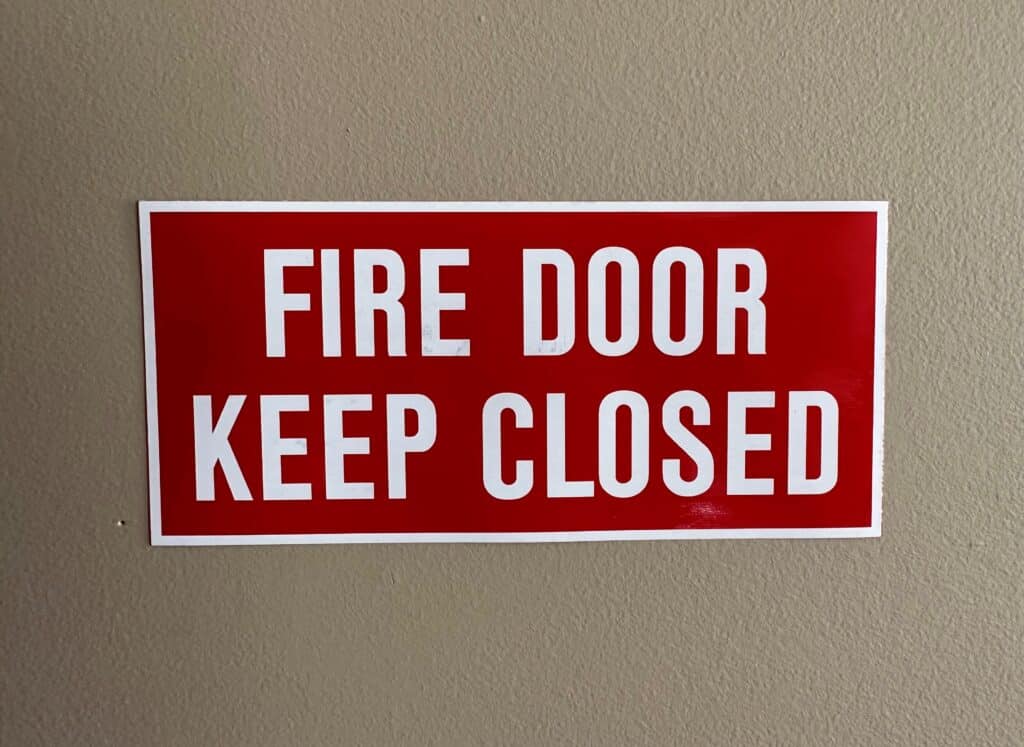 Fire Safety Signage
Fire Code requires some permanent signage be provided. Some specific examples are: "Fire Door Keep Closed" signs are required to be posted on the visible side of the door when it is in the open position, and "Local Alarm Only – Call 911" signs are required to be posted at every fire alarm pull station when a fire alarm system isn't monitored. Other fire safety signage can be required when fire extinguishers are hidden from view, or when service rooms containing important fire protection equipment are unidentified, etc.
We provide both our own custom-made signage, as well as stock signage to meet these requirements. For stock signage we are a wholesaler for Steel Fire Equipment products, https://www.steelfire.com/products.
Room Integrity Testing

For Clean Agent (gaseous) suppression systems to work effectively, room integrity is critical. Clean Agent Systems are used for high risk, high value areas like IT infrastructure (Server rooms), records rooms, and in situations where cleanup of other agents may be a problem. Room Integrity (air-tightness) testing ensures that the room will meet the suppression system's designed "hold-time" criteria of 10 minutes above the height of the protect equipment.
You can count on Aztech Fire Safety to provide qualitative air-tightness testing and detailed pass/fail reports, that meet the requirements of NFPA 2001 – Standard on Clean Agent Fire Extinguishing Systems.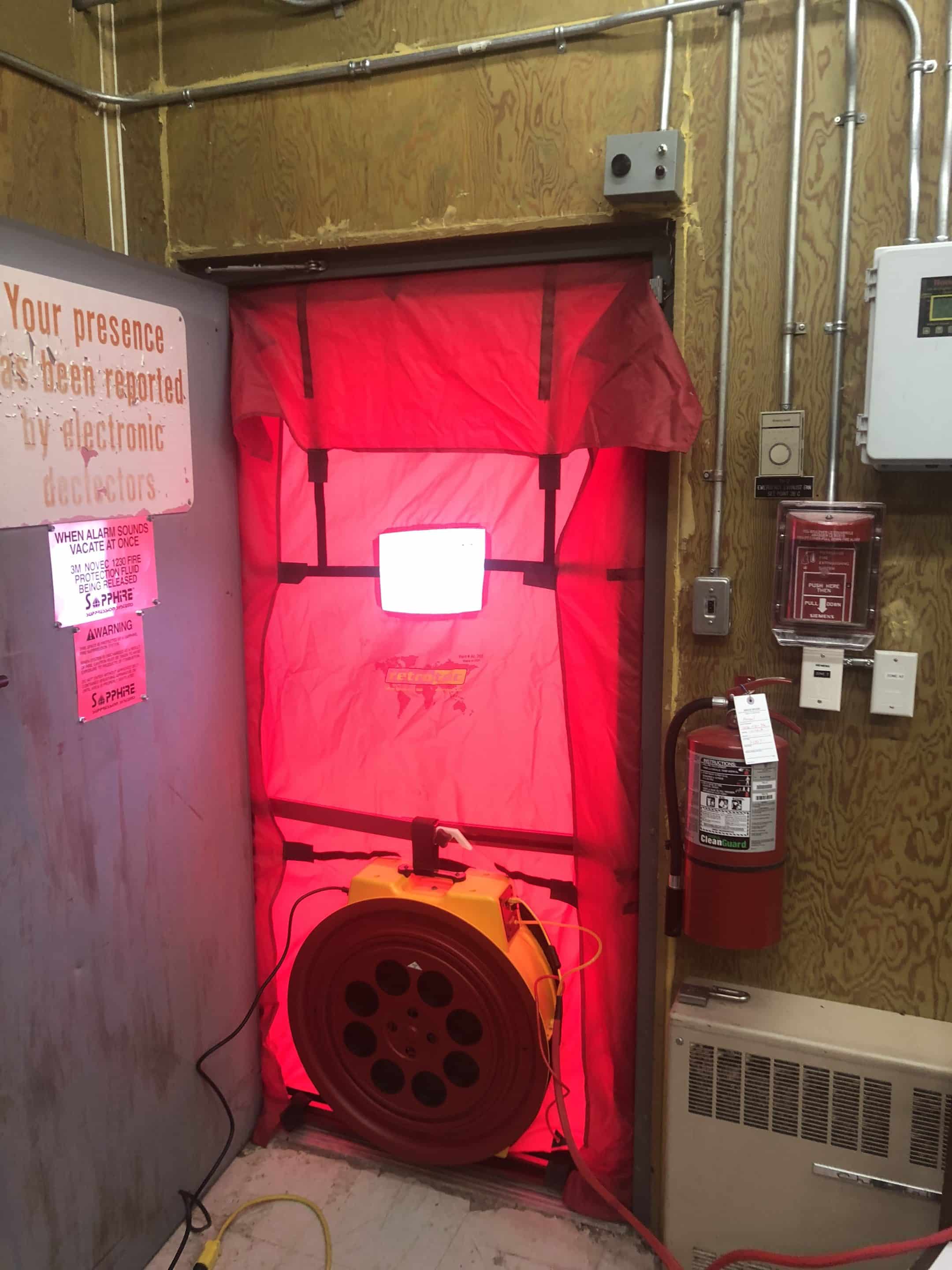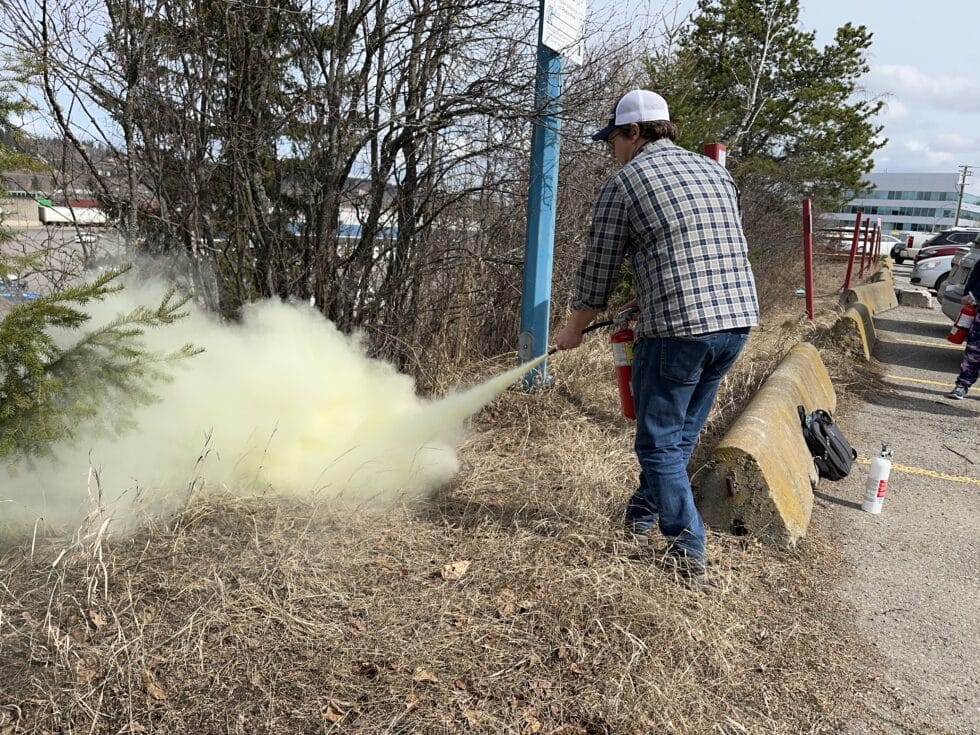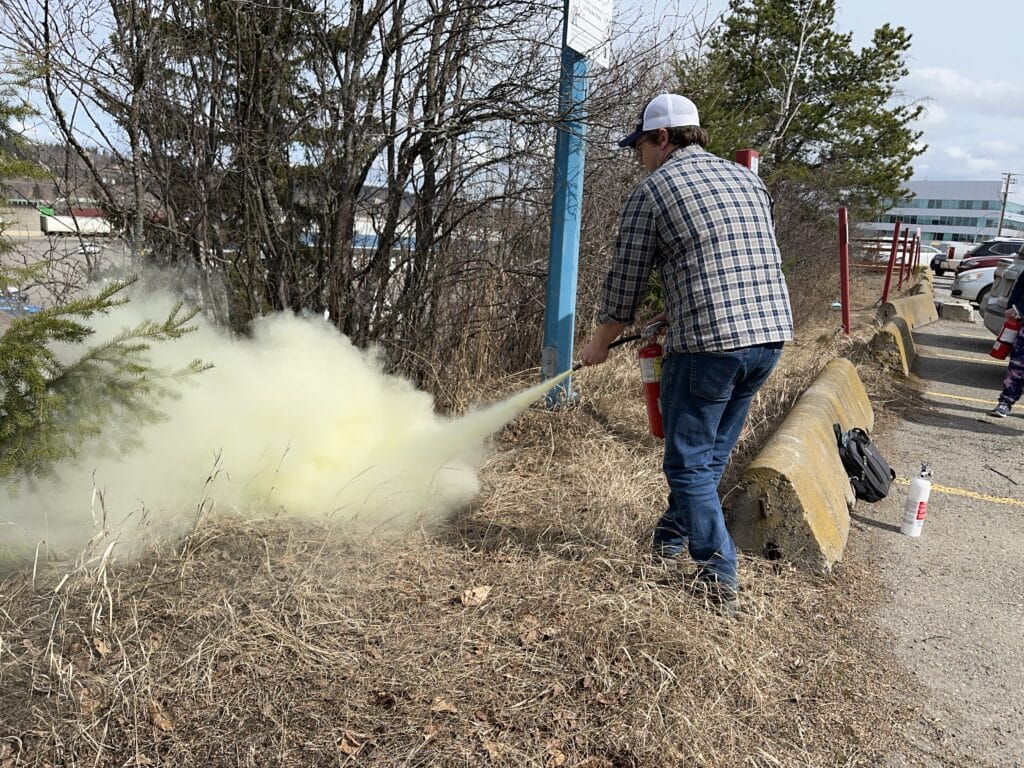 Workplace Fire Extinguisher Training
We provide workplace fire extinguisher training for all types of workplaces from offices to fabrication shops to asphalt paving operations. The format is typically a combination of an indoor presentation, and if the site allows an outdoor hands-on component where participants get the opportunity to use a small multi-purpose dry chemical extinguisher on a static prop (not a live fire). The training can also be done completely outdoors as a "tailgate" meeting. Training includes types of fires, types of fire extinguishers, and most importantly what to do prior, and when it would be safe, to attempt to extinguish a fire.
Fire Extinguisher Consultation

We can specify the types, capacities, and locations of fire extinguishers to meet the Fire Code requirements of NFPA 10 – Standard for Portable Fire Extinguishers Whether you have a new building, existing building, or a large industrial site, we have experience completing compliant and cost-effective fire extinguisher design. Including specifying accessories such as cabinets, hangers, covers, signage, etc. Clients include BC Hydro, Enbridge, and IDL Projects.
We can also supply extinguishers and accessories. We are a wholesaler for Steel Fire Equipment products, https://www.steelfire.com/products.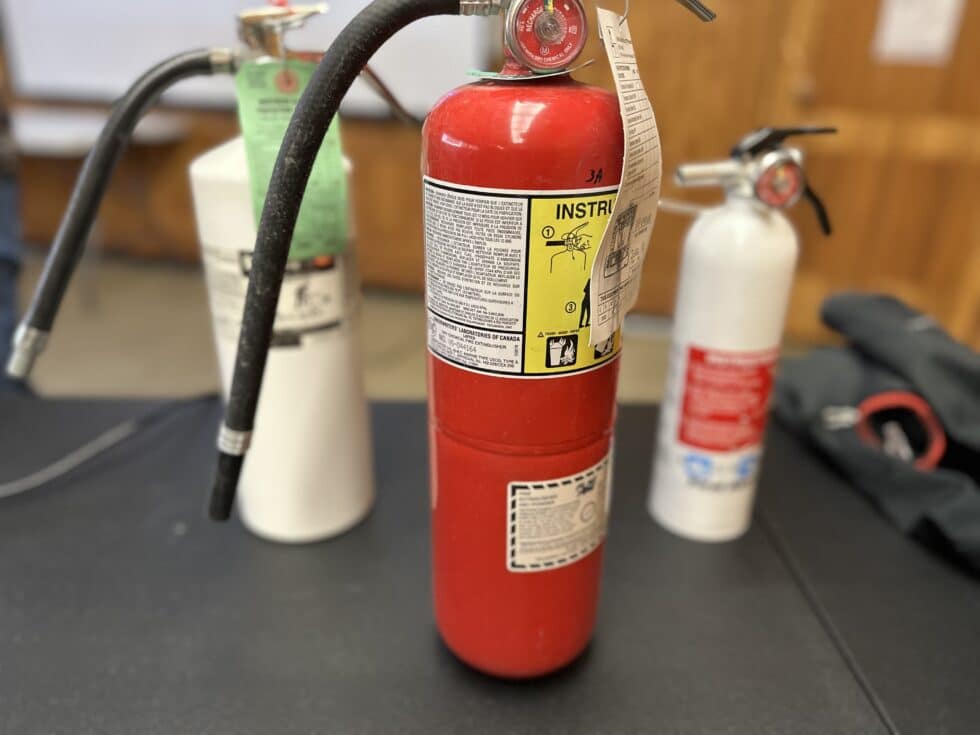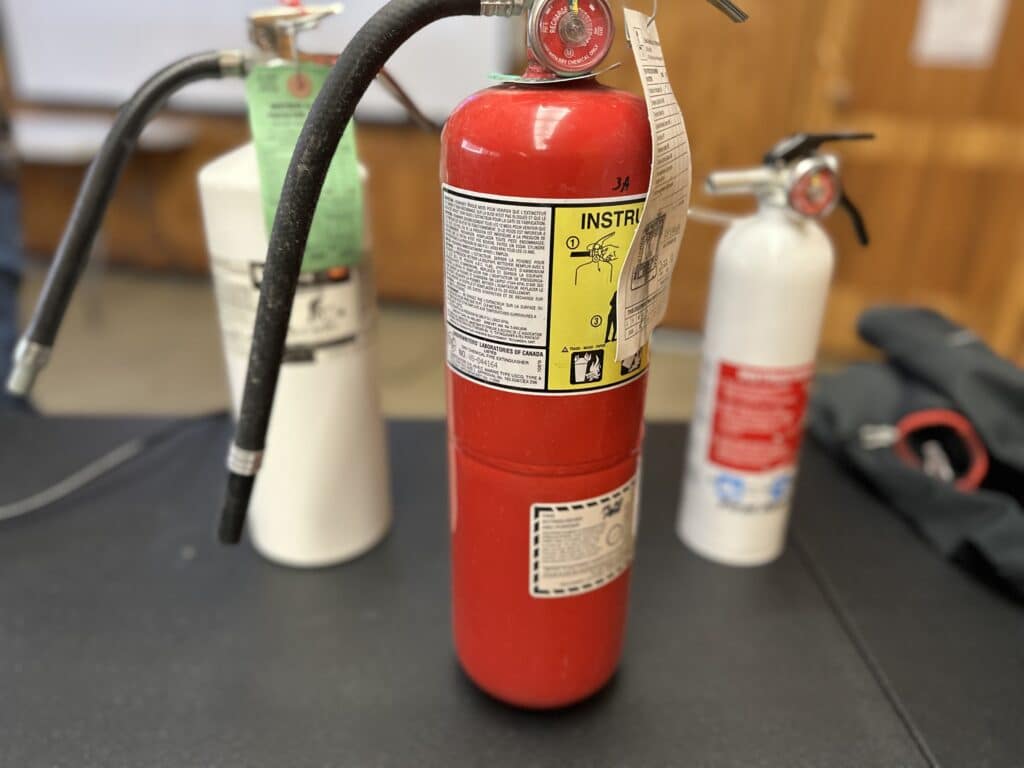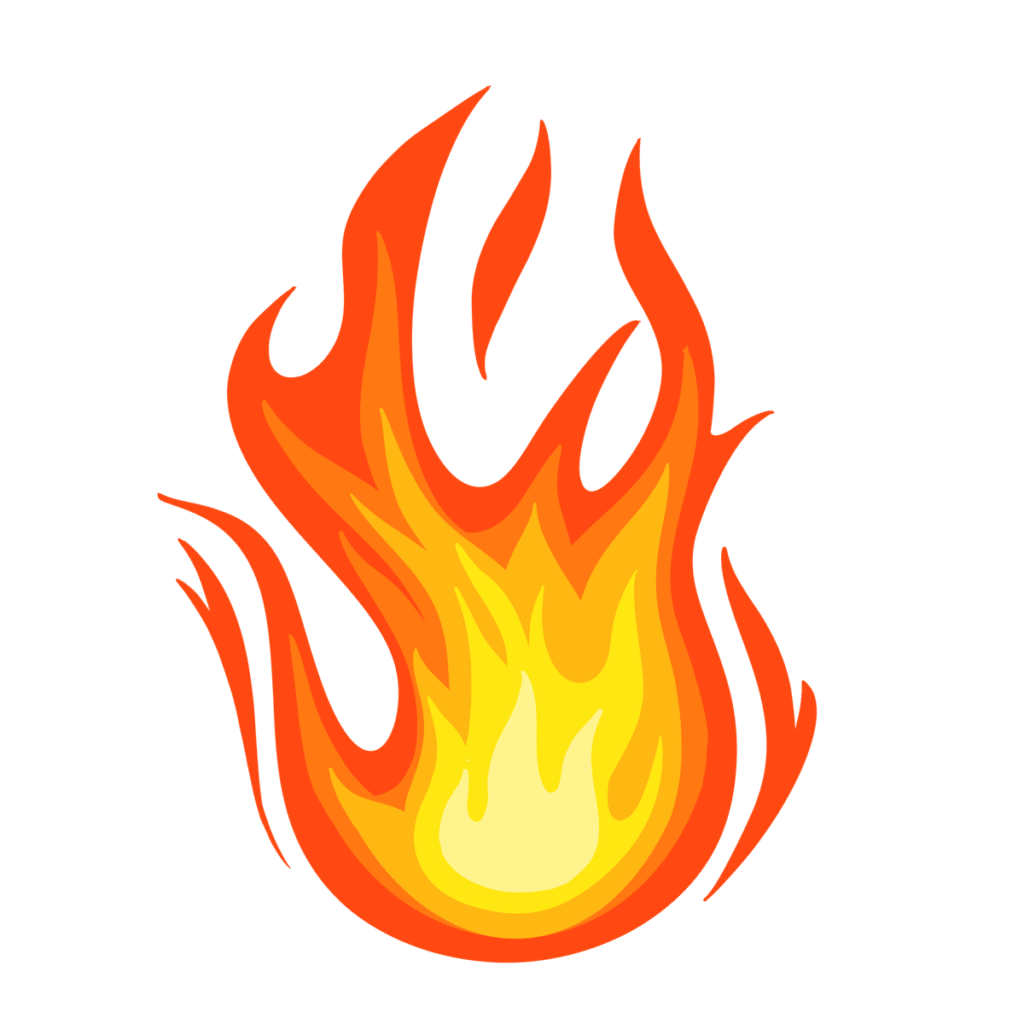 Fire Code Compliance Inspections
For locations that aren't served by Fire Departments with Fire Inspectors, Aztech can provide Fire Code Compliance Inspections, Reports, and Letters of Compliance, to meet the requirements of provincial school and daycare licensing authorities. Our qualified staff have completed NFPA 1031 – Standard for Professional Qualifications for Fire Inspector, Level 1.
Drafting Services

We understand that most clients with existing buildings will not have current digital CAD .dwg or .pdf files of their building's Floor Plans. To assist with this, Aztech staff can draft accurate and detailed "to scale" floor plan drawings from old blueprint hard copies, digital scans, or in-person by sketching and measuring on site. The end-product base drawings can not only be used to create the Fire Safety Plan's Site Plan, Floor Plan and posted Evacuation Plans, but can also be used to create a Fire Alarm Zone Graphic or layout for fire extinguisher design/specification. And, the base drawings can also be provided to the client for their own use.